Looking for the easiest moving solution? Calgary movers pack and unpack at their own pace with MI-BOX.
Looking for the easiest moving solution? Calgary movers pack and unpack at their own pace with MI-BOX.
There are a few things Calgary movers look for when searching for residential or commercial moving companies; transparency, reliability, efficiency, and affordability.

Finding the right moving company for the big day can be quite cumbersome. Luckily, here at MI-BOX, it's easy to make a decision that's right for you.

You have enough on your plate without worrying about a big move, so we make sure to be straightforward in all our practices.
We are affordable and have no hidden fees

We are an accredited business with a Better Business Bureau rating of A+
We make moving easy, stress-free and convenient for you
So, how does obtaining a storage unit work?
MI-BOX is a mobile self-storage company that allows you to work at your very own pace with secure 24-hour access.

One of our professional drivers will deliver the unit of your choice right to your home. We will place the storage unit on your driveway with our state of the art lift technology, ensuring the unit is level at all times.

Leveling the container will allow for a perfectly aligned step in height as well as a precise fit for cargo and steady transportation.

Gone are the days where Calgary movers had to load the truck as quickly as possible, drive a massive moving truck to your new destination, and unload as quickly as possible to avoid late fees. You can keep the unit as long as you'd like, so there is no need to rush and stress out.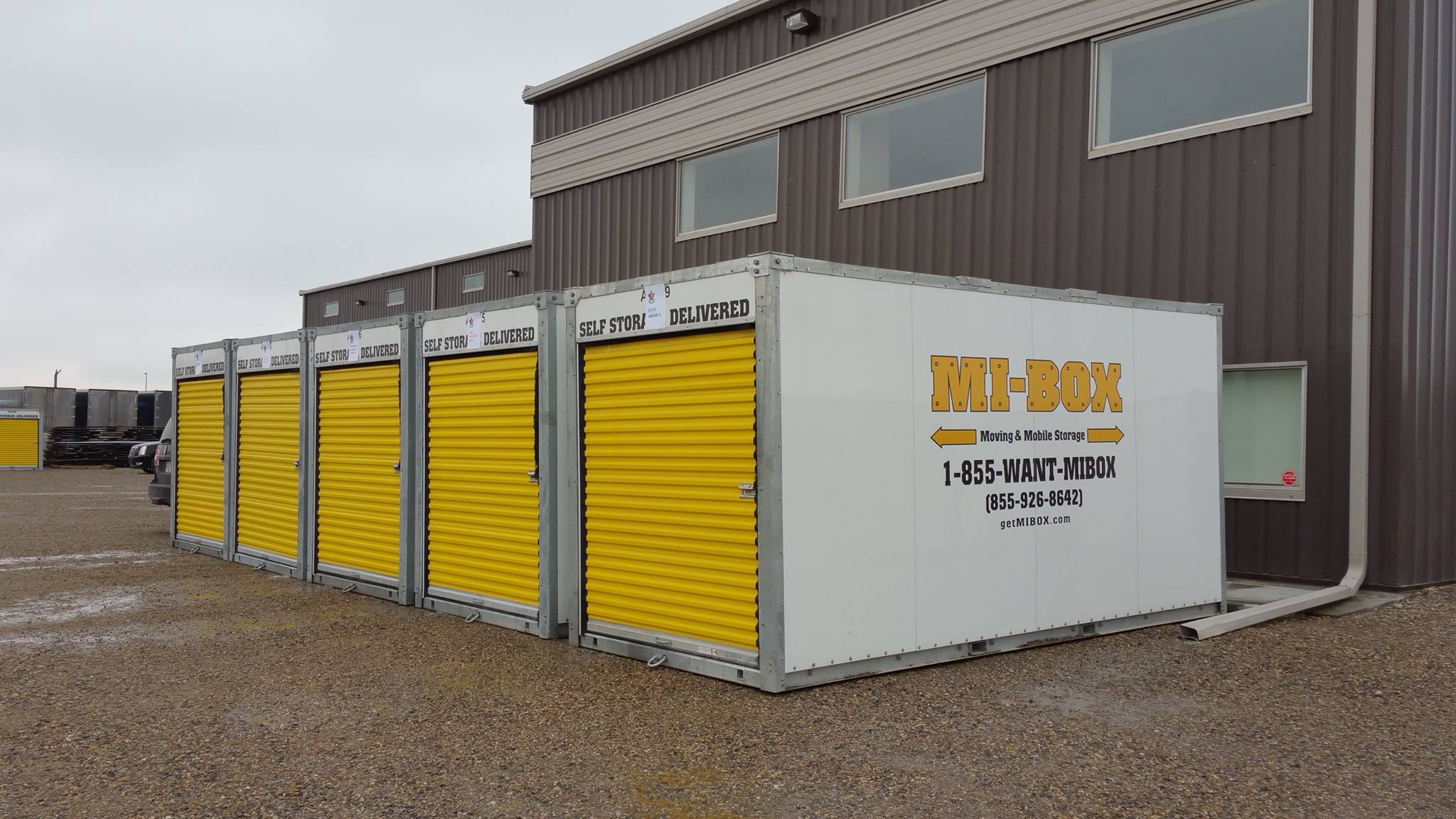 How big are the storage units?
MI-BOX storage units come in 3 accommodating sizes to choose from, and we can even mix and match containers to fulfill moving and storing requirements.

Our small unit is 8' x 8' x 8', making it perfect for packing or storing small rooms, seasonal items and even dorm rooms.

Our medium unit is 16' x 8' x 8', ideal for small apartments, up to 4 rooms of furniture, or small reno projects.
Our large unit is 20' x 8' x 8', excellent for moving large apartments, up to 5 rooms of household items, or large reno projects.

How do I get started?
The whole process is very easy and can be broken down into four easy steps:
Give us a call, and we'll help you determine what size of unit you'll need.

Let us know where to drop off the container.

Take as much time as you need to load up the storage unit.

Give us another call and let us know where the next destination is, whether it be at a new residence, business or our clean and secure storage facility.

Calgary movers have never had it so easy. All you have to do is pack your belongings weeks before the move, don't worry about the moving truck, and simply drive to your new home and unpack at your own pace.

Our friendly and knowledgable experts are here for you every step of the way. Click here to speak to one of our team members and get your free quote today.
Click here to receive a quote from one of our friendly and knowledgeable professionals.