MIBOX storage units are a modern, revolutionary new way to keep your belongings stored and safe.
Are you tired of the traditional storage methods? Then it is time to look past the old ways and look towards the new and modern way of storing away your belongings.
Our MIBOX storage units are some of the most convenient and complete you can get. This is due to the superior construction of our storage units and what we are able to do with them.

Our Calgary storage units are mobile, meaning we can literally deliver them to your front door, as they will fit a standard size driveway. Additionally, commercial moves or storage are no problem at all. We can drop off the storage unit in any area permitting in Calgary or the surrounding area.

Once the storage containers arrive at their destination, we will safely and securely place them on the ground, and level the container using a lift technology called Level Lift. This technology will diminish the likelihood of any damage during movement and placement of the container significantly.

Because the storage container is placed just steps away from where you need it, you will have 24-hour access so that you can work at your own pace entirely.
Our storage units come in 3 convenient sizes:
The small unit is 8' H x 8' W x 8' L, which is ideal for moving or storing small rooms, seasonal items, or dorm rooms.
The medium unit is 8' H x 8' W x 16' L, which is ideal for moving or storing small apartments, up to 4 rooms of household belongings, or small construction projects.

The large unit is 8' H x 8' W x 20' L, which is ideal for moving or storing large apartments, up to 5 rooms of household items, or larger scale construction projects.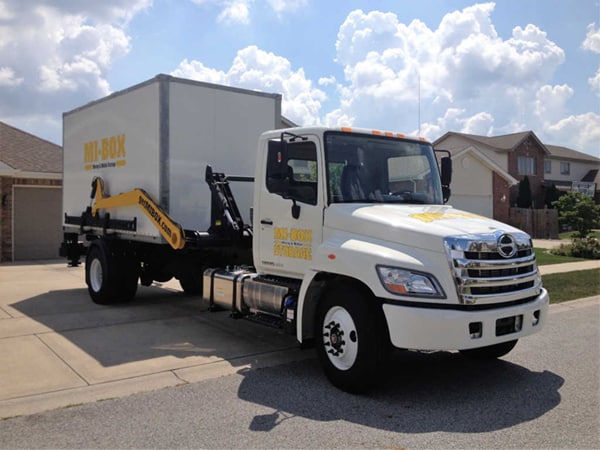 Our containers can handle any size job, as you can mix and match as many storage units as needed.
If you do have a larger scale project or would like to keep your items in storage until needed, but don't have the space, we will pick up the containers and have them neatly stored in our storage facility for safekeeping. You will still have access to your unit. Our storage facility is clean, organized, and secure for added peace of mind.

Furthermore, the materials used for our frames are of high quality, which adds to the overall value. The frames of all our units are made from Hot dipped galvanized steel and duraplate wall panels. The roof of each unit is form-fitted and securely fastened.

The combination of these materials, as well as the building style, prevent our containers from:
Rusting on your driveway and causing damage to your property.

Insects and pests from infesting the unit and ultimately damaging your belongings.

Moisture buildup or leaks from seeping in and damaging your belongings.



Each of our MIBOX storage units are tough as nails and built to withstand all four seasons in Canada and the weather conditions each season brings. You can feel confident that your belongings are safe and secure within our storage units, whether on your driveway or in our facility.

Click here to receive a quote from one of our friendly and knowledgeable professionals.