Revolutionary Modern Storage Facilities In Calgary.
Are you looking for storage facilities in Calgary?
Whether you are planning a move or simply trying to declutter without disposing of your belongings, most services available will only cater to some of your needs, meaning you will have to seek additional services to cover all your basis.


Managing two or more services when life is happening can be very annoying, and may leave a lot of room for mix-ups.


Luckily, MIBOX is a full-service, all in one moving and storage facility in Calgary that will cater to all your needs at an affordable flat rate cost.
Mi-Box has designed its services and portable moving units keeping you in mind, eliminating the potential headaches you may run into during a hectic move or a declutter session.
We conveniently deliver a mobile, weather proof, rust free and high quality storage unit to you and place it on your driveway or standard parking space. You can move things into the unit at your own pace for as long as you wish.


Once finished, you can decide to keep the unit in your parking space, or we will pick it up and take it to your next destination or to our storage facilities in Calgary. Our level lift system assures your unit is NEVER tilted and therefore protects you belongings from damage.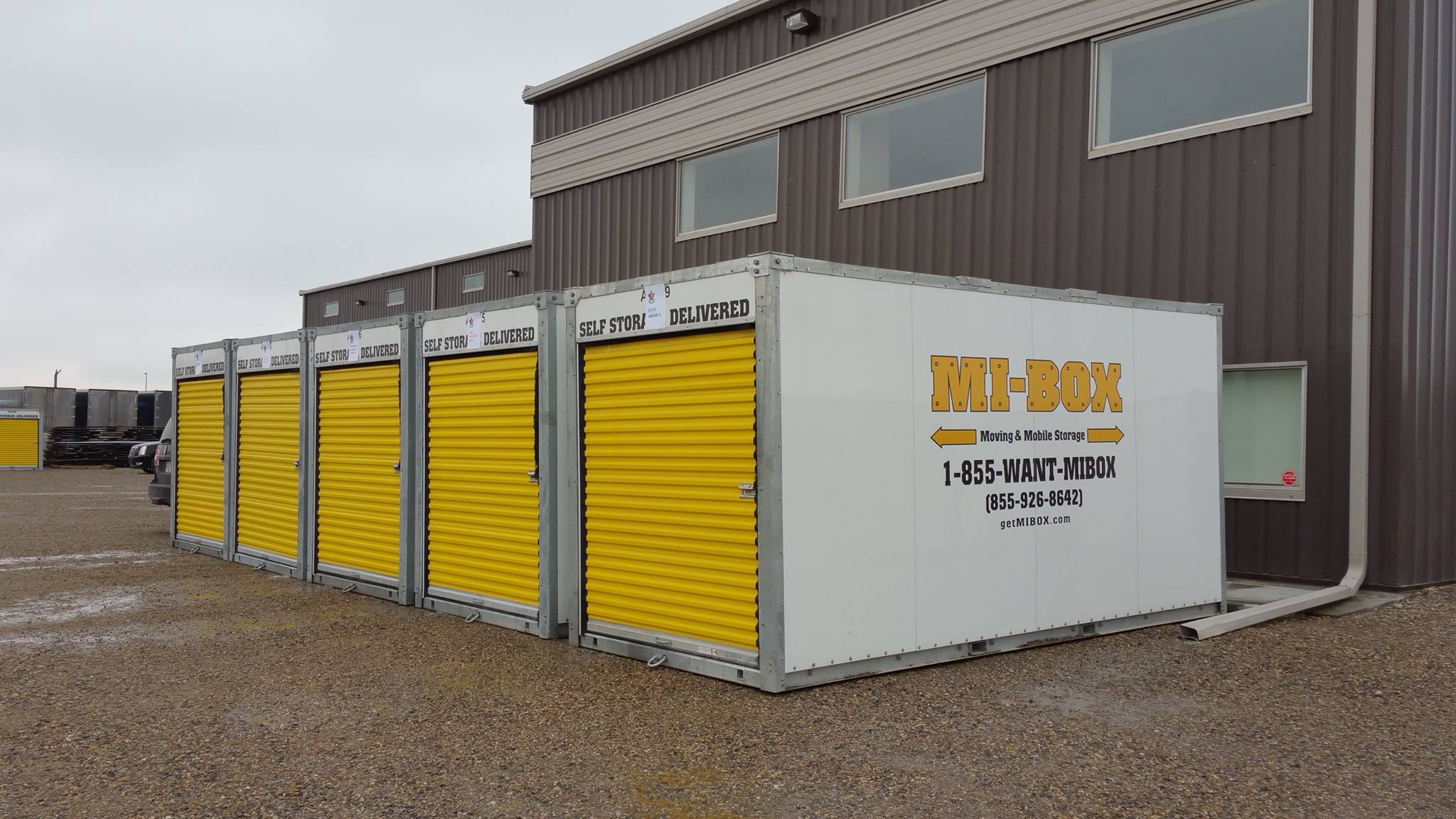 At this point, you're probably wondering how it all works. Let us explain!
First, you want to get in touch with us, either on the phone or online.
We will then find out what goal(s) you are trying to achieve, whether it be moving, or simply storing some stuff away for later use. We will then figure out what size of container you will need to accommodate your needs.
Small container- 8' H x 8' W x 8' L, this size is perfect for moving or temporarily storing the contents within a dorm, seasonal items, or even construction materials.
Medium container- 8' H x 8' W x 16' L, this unit will serve well for moving or storing a small apartment, up to 4 rooms of household belongings, or even larger scale renovation storage.
Large container- 8' H x 8' W x 20' L, this is our largest storage unit, and would work great for moving or storing large apartments, up to 5 rooms of household belongings, or very large construction projects.
You can take one or more containers and mix and match any of these units to fit your moving or storing needs, but, of course, we will let you discuss what will be more appropriate for your situation with one of our professionals.


Once you have the unit quantity and sizes figured out, we will ship one at a time as you fill them or all at once if the area permits. So, no need to worry about renting a giant truck and strategically maneuvering it around your neighborhood and then do the same in your new community. Our professionals will do all that for you, so don't stress about it.


Our truck will lower the unit on your driveway by using a state of the art level lift technology. The container will be gently placed down and leveled, so your items stay safe when placed within the unit.


You are now ready to load all your belongings at your own pace and don't rush to return the unit; you may keep it as long as you need. If you are not able to load the unit yourself or wish to avoid loading all together and take it easy, we can refer a moving service to take it off your hands.


Oh, and don't worry about the quality of work provided. We only work with the best, so we can offer the best possible service to you. Once everything is loaded and locked up, give us a call, or contact us online, and we will be there to pick the container up and move it to your new destination. The same 'take your time' offer applies, don't rush to empty the unit, as you may keep it as long as you need.


If you are storing seasonal items away to be used at a later date, once you're done loading the unit, we will take it to one of our storage facilities for safekeeping. Our storage facilities are safe, secure, clean, and well organized, so you don't have to worry about the state of your belongings as long as your items are within our care. This is the stress and hassle-free way of handling your storage and moving needs.


Out with the old and outdated, and in with the new and modern.
There is no need to ever drive a giant truck to and from your destinations. This is ideal for individuals who do not have a driver's license, and for people who do not feel comfortable maneuvering such a large vehicle in a busy and crowded city.

Say goodbye to extra fees, like late charges or damage charges to the rental vehicle. You also have the bonus of not having to dish out fuel costs up before drop-off, or mileage charges. Our fees are flat rate!
You have 24-hour access to a secure, clean, safe, and leveled storage unit right at your front door. There are no hour and holiday restrictions, no coded gates, no driving away from home to get the job done. Save your time, fuel money, and added mileage on your personal vehicle.
You literally can work at your very own pace, so adios to convincing people to help you move. You also don't have to worry about a strict time frame to complete the task at hand. We all know that anything rushed can very well turn into a disastrous situation. No one wants their belongings being lost or damaged.
These are three great reasons to make the switch and turn to a more practical and relaxed storage solution.


Here at MI-BOX, we guarantee you will see a vast difference between traditional storage "solutions" and the new and modern approach.


Customer service is one of our main priorities; this principle is, of course, shared with convenience, easy manageability, cost efficiency, and security for you and your family. Click here to receive a quote from one of our friendly and knowledgeable professionals.