Looking to hire a moving company, but scared they'll damage your stuff?
DIY with MI-BOX! You can start your move weeks ahead to load your belongings properly.
MI-BOX has been the solution for many hard-working Canadians that wish to protect and preserve their hard work as we offer a modern storage solution for the big move.


Our storage units are literally dropped off at your front door, and fit perfectly in an average size driveway. With us, you'll have 24-hour access to secure and affordable storage just a few steps away from your home.


They're made with high-quality materials, so your belongings are safe from the harsh Canadian elements. Not only are your objects protected, but your driveway will also be safe from rust and damage.


Furthermore, you can keep the unit as long as you'd like, so there is no need to rush the move in a few short hours.


Now you can plan several weeks ahead and move at your own pace entirely. MI-BOX offers residential movers the peace of mind you simply can't get with a moving company.
How Does It Work?
Getting started with MI-BOX is so easy and painless, we can break it down in a few simple steps.
Once you have decided to move, give us a call, and we'll help you determine a suitable size storage container to begin your journey.

Let us know where you want the container, and our professional drivers will drop it off and make sure it is level with the ground for easy access.

When the container is full and ready to go to its next destination, give us another call with the instructions, and we'll be there on time. You'll never need to book and get behind the wheel of a moving truck rental again.
If your move out date and possession date don't align, we can store the unit in our clean and secure storage facility in Calgary. No matter what your situation may be, we're sure we can accommodate.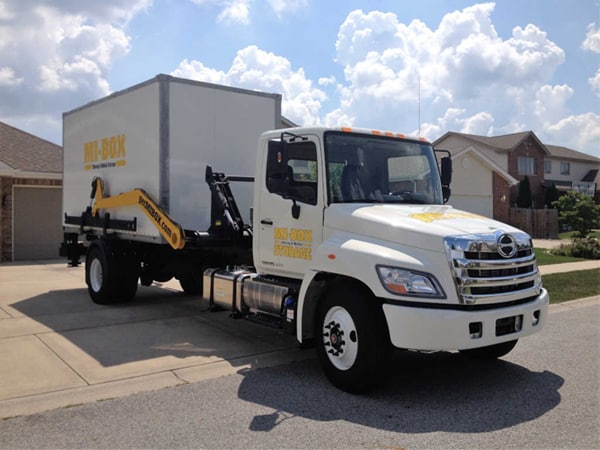 Are Movers Worth The Cost?
Moving to a new home and area is one of the most exciting events for individuals and families. However, the moving portion can be one of the most daunting and stressful aspects for an individual and especially a family.


Hiring a moving company is probably one of the first solutions to run through a movers head, but is it worth it? It is common knowledge that moving companies are pricey, but you won't have to lift a finger on the plus side! That alone should make the financial hit justifiable, right?


Well, it is also common knowledge that movers can often cause more damage to your belongings than moving yourself. You could easily be left with a hefty moving bill, damaged items, and more stress than you had started off with.
Get In Touch
Still not sure if MI-BOX is right for you? Click here to reach us online or by phone, and one of our friendly and knowledgeable experts will be happy to answer any questions or concerns you may have.