Moving truck rentals are o
utdated, stressful and dangerous!
Are you looking for a moving truck rental? Consider MI BOX as a safer alternative instead.
Moving can be a very draining and daunting task, and it becomes a lot worse when you find yourself behind the wheel of a massive moving truck.


Large moving trucks are increasingly intimidating when the driver is used to significantly smaller vehicles. Additionally, there are no rear view mirrors, meaning drivers must solely rely on side-view mirrors. Accidents can happen easily, especially when nerves kick in.


So what happens if there is an accident? Depending on the nature of the accident, the driver may not be covered by insurance. Most major moving truck rental companies will not cover accidents unless you purchase additional insurance. And even that may not cover everything.


Many companies don't cover accidents that involve damage to the roof of the vehicle. Drivers that aren't used to checking for height clearance may find themselves in quite the predicament if a situation like that occurs. Even if an accident happens and the insurance does cover the damage, it is still a situation no one wants to find themselves in the middle of.
Modern, Easy And Safe - How It Works
MI-BOX offers the perfect solution for residential movers who don't want to deal with the hassle that comes with driving an oversized moving truck.


Just give us a call or reach out online, and we will help determine what size of unit you require based on how many rooms of household furniture you are moving. Once you book a date with us, one of our professional drivers will transport the mobile storage unit to your home.


Our experts will place the container in a safe location with our state of the art lift technology to ensure the unit is level with the ground at all times. Your unit will even remain level during transport, so the chances of items moving around and becoming damaged are slim to none.


You will also have access to your unit 24/7, and you may keep the unit as long as you'd like, so you can literally work at your very own pace without rushing to get the job done quickly.


When the packing is complete, let us know where to drop off the moving container, whether it be at a new residence or our clean and secure storage facility for later use.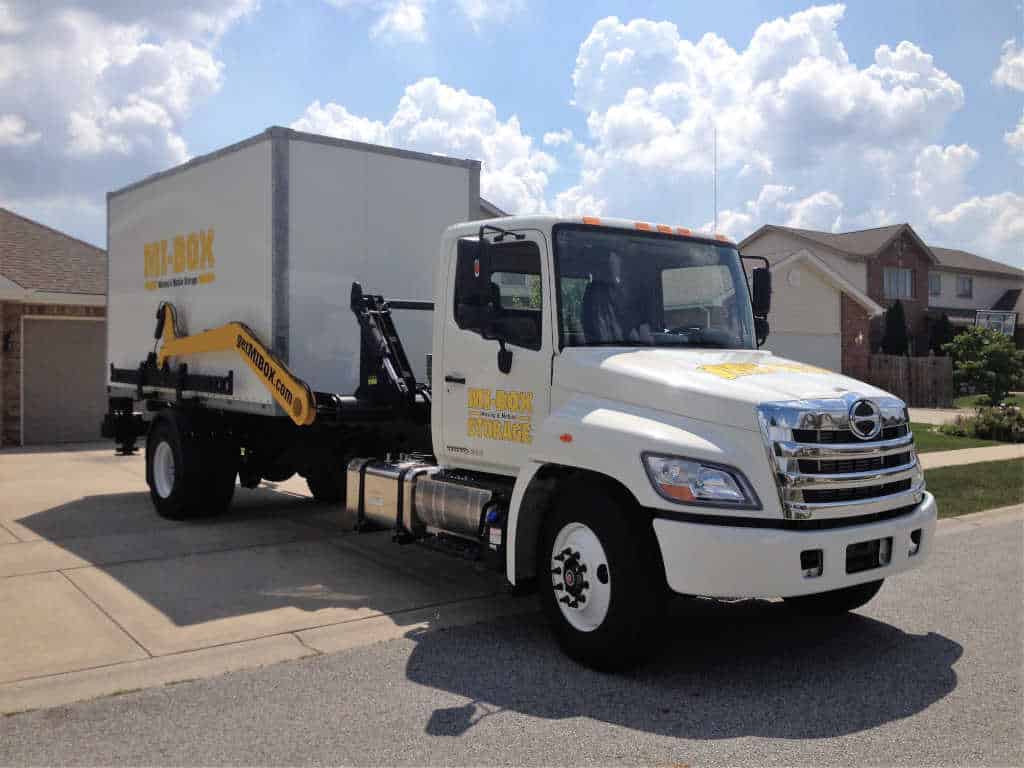 MI-BOX Unit Sizes
Our units come in 3 well-suited sizes for any job. You can also mix and match the storage containers for larger-scale jobs or projects.
Small unit- 8' x 8' x 8', this unit is ideal for moving or storing dorm rooms or seasonal belongings.

Medium unit- 16' x 8' x 8', this container is ideal for small apartments or 2 to 3 rooms of household storage.
Large unit- 20' x 8' x 8', this unit is our most spacious and will store a large apartment or even big projects like renovations.
Ditch the moving truck rental and get in touch with MI BOX today!
Avoiding dangerous and nerve-racking moving truck rentals has never been so easy and convenient for those who want no part of it or would prefer to stay clear if given a choice. MI-BOX will take the stress and hassle right out by handling it for you. Click here to get a free online quote or give us a call for more information.