Rent Portable Self Storage Calgary Containers For However Long You Need It
There are many storage and moving options in Calgary; however, little will offer the quality and functionality that MI-BOX delivers.

Our service is designed to be a one-stop, easy, flexible, hassle-free moving and storage solution by providing a highly accommodating and versatile service. Residential or commercial scale, all situations are welcome.

It doesn't matter what part of Calgary you are in, or what part of the city you are going to. We assure it will be the most stress-free move you have ever had if you have not used MI-BOX services before.

It all starts with either a phone call or reach us online. We will go over what storage unit size will be more beneficial to you, how many of the units you may need, how long you will need the unit(s) for, followed by a quote.

Our storage containers come in 3 different sizes:
Three optimal sizes to choose from or mix and match as needed.
Small- This unit is 8' x 8' x 8' and will accommodate a dorm just fine, or ideally be used to store seasonal items, so they aren't piled up in the garage.

Medium- This unit is 16' x 8' x 8' and will accommodate a small apartment or roughly 3 to 4 rooms of furniture.

Large- This unit is 20' x 8' x 8' and will accommodate a large apartment or even a home with 4 to 5 rooms.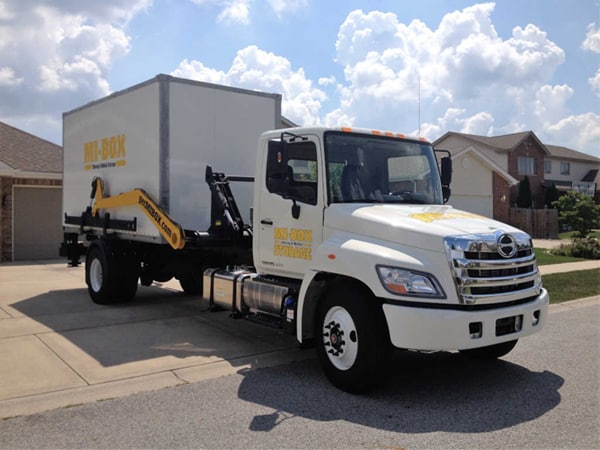 What happens next?
After selecting the Calgary Storage unit(s) that will suit your needs the best, just give us an address, and we will drop off the units to the location you desire. There is no need to brace yourself to drive around the city in an enormous truck. Our expert drivers will take care of it for you.

We use a state of the art lifting technology that ensures the contents within are safe and level when the containers are being picked up and lowered. Once we lower the storage unit into place, we will even level it to ensure it is lined up properly with the ground. You will be able to place your belongings into the container with ease at any time of the day or night, as you have 24-hour access to the unit. No more lifting heavy objects into the back of an elevated moving truck as quickly as possible and walking away exhausted with a sore back. Work safely, comfortably, and at your very own pace, without being charged by the hour.

All of our storage containers come with standard structural advancements for added value:
Our containers are made with hot-dipped galvanized structural steel; this means the frames are anti-rust and will prevent your driveway from getting any pesky stains.
Each container is made with DuraPlate wall panels, which will protect the contents of the unit against the harsh Canadian elements, keeping everything safe and dry. No need to worry about moisture seeping in anywhere.
Similar to the walls, the roof is form-fitting with sealed metal. Apart from keeping the elements and debris out, it will also keep destructive insects from entering.
These units are so strong and secure; you can also rest assured that your belongings will be safe from theft.

All these perks are particularly ideal if you intend to have the unit on your driveway for some time.
We firmly believe in going the extra mile to limit the stresses of moving. If you ever feel like you need some help moving, let us know, and we will put you in contact with vendors that offer professional moving services. We only provide our clients the best, so know that we also only work with the best to ensure only reputable moving services handle your belongings safely and efficiently.

Once you are ready to have the storage container moved, we will pick it up and move it to the next location of your choosing, as we mentioned above. However, if you are not quite ready to have the unit moved to its final destination, we can house it in our storage facility in the meantime. Our facilities are climate controlled, clean, secure with 24/7 access. You have peace of mind knowing your items will be perfectly kept while in our care.

The financial benefits of having MI-BOX on your team during a highly demanding situation is substantial.

You will not have to take time out of your work schedule or the work schedule of friends and family members to move everything within a few short hours. Your time and effort is so much more than that.
You will not have to look for a moving truck and pay rental fees, mileage fees, potential late fees, or insurance fees. Not to mention, you will save yourself the stress if an accident does occur on our busy Calgary roads during winter. No filling up the gas tank before you return the truck, either.
You won't have to spend a small fortune feeding your army of moving help.
You won't have to replace items that have been lost or damaged during a hectic move.
You will not have to find a sitter or daycare for young children and pets during the move.

It is undeniable that your pockets will be deeper if you choose the MI-BOX route, as opposed to the traditional, outdated, cost consuming, inefficient, and strenuous moving and storing methods.

Here at MI-BOX, we pride ourselves on being able to provide the absolute best customer service our industry has to offer. We have hundreds of satisfied clients for a reason. Our company was founded by a family, with family views and values, so when other families put their trust in us, we won't fail them.

We are committed to providing exceptional service. Get started by reserving your portable storage container online.